Main pageReportsReport from 20.11.2013 LPW Annual Meeting on Inspiring Women: equality for Entrepreneurship and Public Sphere in Ukraine in the framework of the Global Entrepreneurship Week
| | |
| --- | --- |
| | Report from 20.11.2013 LPW Annual Meeting on Inspiring Women: equality for Entrepreneurship and Public Sphere in Ukraine in the framework of the Global Entrepreneurship Week |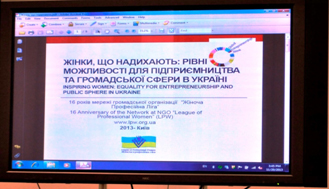 Last Wednesday, November 20, 2013 within the framework of the Global Entrepreneurship Week (GEW), the League of Professional Women (LPW) in partnership with KPMG Ukraine and Metro Cash & Carry Ukraine organized the annual meeting and brought together women-entrepreneurs from all over Ukraine to discuss "Inspiring Women: Equal Opportunities in Entrepreneurship and Public Sphere in Ukraine".
This year the meeting included a practical seminar, a cultural quiz and coffee/tea networking. During the meeting the moderator, Alina Sevastyuk, Head of Business Development Department of KPMG Ukraine invited participants to share personal stories and experiences that inspired them for action, participation in various programs or development of their own business etc. President of the League of Professional Women (LPW) and Director of International Consulting Company (ICC) Olena Lazorenko shared her stories about local projects in the public sphere, that were inspired by the meetings with Hillary Clinton, Melanie Verveer, Carly Fioryna and other powerful women. She also told about the five-year global program that provides an opportunity for women entrepreneurs to become suppliers of services/products to large world corporations, such as Coca-Cola Company, McLarty Global Fellows, Vital Voices, WEConnect International, Ernst & Young, Marriott, ExxonMobil Foundation, Wall Mart and the Goldman Sachs. "LPW made it possible for Ukrainian business women to join the international community WEConnect International."- concluded Olena Lazorenko.
Julia Pylypenko, HR Director of Metro Cash & Carry Ukraine delivered a powerful speech on leadership in the context of self-government and presented tools that would help to cope with changes, as "any change either in business, management, or company development starts with you."
The only man at the meeting - Andrew Chuprikov, partner of International Consulting Company (ICC) ​​also focused his attention on the women who inspire him to act. Besides, he spoke about the ICC projects aimed at gender equality, promotion of corporate social responsibility, advocacy of equal rights, the development of women's entrepreneurship, etc. International Consulting Company has been providing professional services since 2001. These are variety of training and consulting services, support to foreign companies and organizations that would like to start their business in Ukraine. "My daughter inspires me to create conditions for women in which they could continue proactive stance and move forward." Tatiana Zamorskaya, Director of tax and legal consulting of KPMG Ukraine, told her life story. She said: "No matter where you are from, more importantly is in what direction you are moving." According to her, the most significant factor for career growth is people who surround you. "KPMG for me is more than just a business. It gives chance for self-realization not only in professional field, but also in community service."
To sum up the first part of a meeting Valentina Lehkaya disseminated information about UN Global Compact and 7 principles of women empowerment. "Business means equality," - she summarized.
The cultural component of the annual meeting of the League of Professional Women was the photo quiz "Guess the country and the city of the educational event I visited." The winners received prizes from METRO - books "Wine: Atlas of the World." Participants had the opportunity to communicate and share their experience during networking with a cup of coffee or tea. According to the feedback, the meeting proved to be really inspiring.
Visual support all storytelling
Slides for the presentation of Olena Lazorenko "Women Inspiring ...»
Video 1) Hilary Clinton announcing $ 1.5B spend to create sustainable pipeline of women suppliers around the world (Clinton Global Initiative)! http://www.ex.ua/525285823563
Video 2) WEConnect International Corporate Members - Buying for Impact http://www.ex.ua/525285823563
Video3)Women's Empowerment Principles: Equality Means Business (UN Global Compact)
http://www.ex.ua/525285823563
Slides to Yulia Pylypenko Pylypenko
ICC booklet to story by Andrew Chuprikov
Presentation by Anna Danilyuk "Women Empowerment Principles. The initiative of the UN Global Compact."
Culture Quiz "Name a country and city educational event where I was." In Quiz used photos from the personal archives of Ludmila Smirnova, Elena Lazorenko Bogdan Kostyuk and Joan Akimova
Video https://docs.google.com/file/d/0B8Lte9Zln2xpSFdZUndYeXFJRXc/edit?usp=drive_web
Photo album of the event is available at this link https://drive.google.com/?tab=mo&authuser=0#folders/0B8Lte9Zln2xpSVpURElaX2QtMlk
FB https://www.facebook.com/media/set/?set=oa.243732989122375&type=1