| | |
| --- | --- |
| | Senior People Project |
Web http://www.lpw.org.ua/ Senior People Project
The main stages of pilot Project «Women Initiative for Senior People from Capital and Small Towns of Kyiv Region» (February-April 2010)
The Project was supported by Canada Fund of Local Initiatives, the Canadian Embassy in Ukraine and by Kyiv Regional Council.
Participation in all Project events was free for registered participants.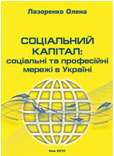 Publication of Popular Science Book: «Social Capital: Social and Professional Networks in Ukraine» written by Dr. Olena Lazorenko (Kyiv, 2010).
ISBN 978-966-8163-17-3
Content of the Brochure in Ukrainian
This publication was made under financial support of the Canada Fund for Local Initiatives.
The content of speeches, the publication and the views of Project's participants do not necessarily reflect the viewpoint of the Canadian Government, the Canada Fund of Local Initiatives or Kyiv Regional Council.
The League is starting to search financial sources to continue work with senior people. To support the League's initiatives, for propositions, comments and requests, please address at: lpw_network(at)i.ua