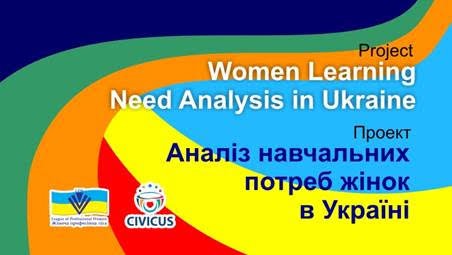 Project Brief
Ukrainian NGO "League of Professional Women" (LPW) announces the starting of the active phase of the grant project «Women Learning Need Analysis in Ukraine», which supported by CIVICUS Solidarity Fund.
Why LPW focus on this project`s subject?
Ukraine is an ageing country - 74,48 % in ages 25 - 65 + years old, and women are making up the majority of it. The age structure of Ukraine population affects to key issues on development new national education policy, especially on adults learning. LPW as Ukrainian women NGO is action for change for building solidarity with different actors in our civil society, various stakeholders through field research actions and advocacy activities . The project team is planning to apply for various stakeholders who have been worked on adult learning in Ukraine (areas of social well-being & integration, employment and active civil participation) and focus in these activities on female learners. National analytical study on the sub-task of SDG4 "Quality Education" for 2019 UN HLPF, notes additional challenges, particularly in less learning needs analysis of adults in Ukraine, especially women (women – employers, women-professionals and women from marginalized and vulnerable groups). When an educated woman's income increases, she will often reinvest as much as 90% of it directly towards family needs, compared with an average of 30-40% for a man. Learning and training needs to aim to do more than prepare people for the world of work; it needs to equip women-learners and whole communities with the skills, mindset and incentive they need to become active, responsible and engaged citizens in Ukraine.
The updated project format (in relation to quarantine and pandemic COVID-19) included:
Virtual experts` survey (in May) with focus on following targets female groups (a) women – employers, (b) women-professionals; (c)women-entrepreneurs; (d) women from marginalized and vulnerable groups in Ukraine.
Online conference via zoom (Peer Review Workshop) with experts and various stakeholders (in June)
Preparing in virtual and print format of publication in Ukrainian and its brief statement in English in October 2020.
How do you express your interest in joining to LPW project as a pro bono expert?
Experts interested in this topic and working with target female groups in Ukraine & communicating in Ukrainian, can fill out an online Application Form to receive an online link for experts` questionnaire, and subsequently a virtual conference information via your e-mail.
This brief in Ukrainian is here http://lpw.org.ua/ua/news/?pid=696
Facebook Ann. here https://www.facebook.com/events/958405047922218/
LPW Project Team Leader Dr.Olena Lazorenko email: lpw.network(at)gmail.com
For project`s relative proposal, you can call us via email communitylpw@gmail.com