| | |
| --- | --- |
| | 2016 Brief Report LPW Annual Meeting |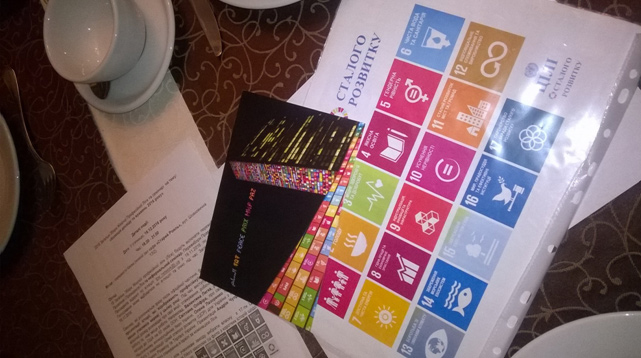 The Annual Meeting of the League of Professional Women (LPW) perfectly complimented by the seminar "Collection of Experience and Impressions of 2016" was held on December 16, 2016 in Kyiv. LPW President, Board members, LPW members and guests were present at the Annual meeting. The event was joined by the newcomers interested in the LPW activity and possible further membership.
Chairwoman of the meeting and the LPW President Olena Lazorenko made an Annual report, brief but full of information about what has been done by the LPW members during the year of 2016. She announced the results of LPW 2017-2021 President and Board members electronic voting by LPW members. The results are LPW President for 2017-2021 – Olena Lazorenko, Board members – Valentyna Leghka and Svitlana Olifira (see at: http://lpw.org.ua/en/board_of_directors/) The LPW President and Board members newly elected were warmly congratulated by meeting participants. Taking up the theme of seminar "Collection of Experience and Impressions of 2016" the panel was given to Valentyna Leghka. She exposed the experience and impressions of ther ravel to USA and participation in the 60th sessions of the U.N. Commission on the Status of Women (CSW-60) and seminars on "Empowering women to end hunger" conducted by United Methodist Women in New York (also see http://lpw.org.ua/ua/news/?pid=665).
Olena Lazorenko shared her experience in advocacy activity with Ministry of Economy of Ukraine and UNDP on localization of Sustainable Development Goals (SDGs) in Ukraine. Olena also informed that local network of UN Global Compact (with LPW membership in it) re-started their activity in Ukraine (see more https://www.facebook.com/global.compact.Ukraine/). Svitlana Olifira shared by her productive experience working as the press secretary of the National Anticorruption Bureau of Ukraine. Andrey Chuprikov devoted his story to his MASHAV Program`s experience during three weeks workshop on Supporting Women Entrepreneurs for Sustainable Development 25 July-18 August in Israel and impression of cultural visits. Given memories also gave all participants the chance to share insights with all present at the event.
Photos from 2016 LPW event on December, 16 in Facebook https://www.facebook.com/events/547940795403167/permalink/561913657339214/
Presentations\links on 2016 LPW Advocacy
News and first LPW position paper (author by Dr.Lazorenko) in Ukrainian http://lpw.org.ua/en/news/?pid=667
Policy Paper with recommendation by Dr.Lazorenko on SDG 4,5,8 to National Report on "SDGs.Ukraine" (in Ukrainian)
https://nas.academia.edu/OlenaLazorenko
How conducted localization of the SDGs in Ukraine - video
https://www.youtube.com/watch?v=pKnesyS0Cs8&feature=youtu.be
Role of Private Sector in Sustainable Development Goals- video
https://www.youtube.com/watch?v=FyGuTL_NP7E
How Your Company Can Advance Each of the SDGs by UN GC
https://www.unglobalcompact.org/sdgs/17-global-goals