Main pageReportsSummary of report Creative Green Tour to the City of Chernigiv 20 June 2009
| | |
| --- | --- |
| | Summary of report Creative Green Tour to the City of Chernigiv 20 June 2009 |
On Saturday, June 20 2009, the League of Professional Women jointly with UN Global Compact organized a Creative Green Tour to the town of Chernigiv. A wonderful one day trip was coupled with the LPW 12th anniversary.

We were lucky to enjoy a good weather, comfortable transportation and beverages kindly provided by Vitmark-Ukraine (see picture 1).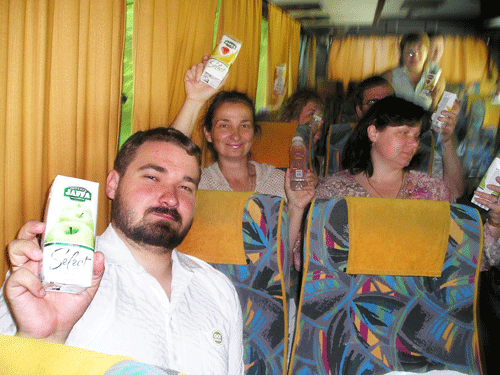 Picture 1
An intense program began on a bus with creative session through which we had a chance to meet each other – special thanks for and idea and its realization to International Consulting Company, Ltd. (ICC) in general and Olena Lazorenko (ICC) and Larisa Korchevna, Kreditprombank, in particular.
The program included but was not limited to the city tour (see picture 2) conducted by a passionate guide. We visited Historic museum, Spaaskiy and Borisoglebskiy cathedrals, Regiment registry; we also saw the guns of 17-18 centuries, old Russian burial mounds, Kransniy Bridge, the Church of Mikhail and Fedor, Chernaja grave, Central square and Antonijevy caves.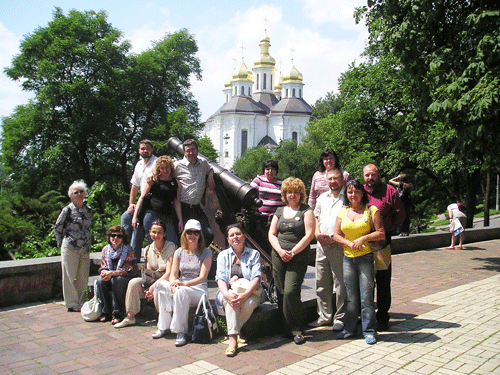 Picture 2

Thanks to Vadim Antoshin, head of Chernigov city utility agency , we had a chance to listen to a singing fountain. We had a green lunch organized by Viktor Mozgovoy, Director on Social issues "Chernigov Chimvolokno" & Vise –president of Charity foundation "Rodnoj Dom". But most of all we enjoyed the company of each other and we appreciate the efforts of Anna Danyluk, UN Global Compact and Anatolij Solovjov, "Link" USAID for making socializing enjoyable.
To crown the day we had a tour of brewery and sampled beers made by SUN InBev Ukraine (see pic3) - our special thanks to Vladimir Kosenkov and Valeriy Kosjak from SUN InBev Ukraine.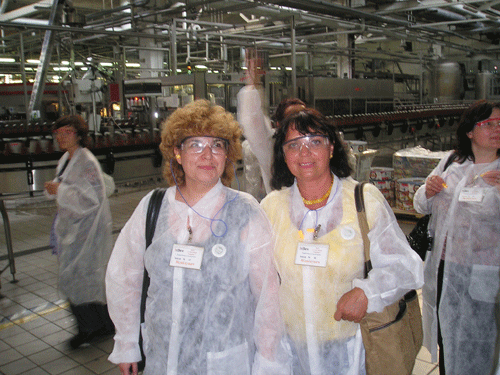 Picture 3

The Leading Hotels of the World, BTL and Chernigov Chimvolokno provided souvenirs for the tour participants.
We deeply appreciate time and efforts of Olena Lazorenko, head of the organization committee, and Larisa Korchevna, coordinator, as well as other LPW members - Marina Dzurenko, Marina Kabalinova and Natalia Chuprikova for making this trip possible. Also appreciate assist of Alina Sevastuk and Nikolay Moldovanov for tour's photos.
LPW Board www.lpw.org.ua e-mail: lpw_network@i.ua
---
Why Tour is "Green" & "Creative"?
The title "Green" of the Tour comes from its main topic "Go Green" (see below about The Go Green National Campaign initiated by the UN in Ukraine under the auspices of Global Compact) and travel conditions (full information you can read in Ukrainian version of Announcement). We inform participants about components of the Eco –Sensitive Life Style in Ukraine. Also Tour is Creative, because its concept and conditions are new and original. The Tour is including creative training session (designing by International Consulting Company, Ltd.) with drawing and songs. The winners will have prizes!