| | |
| --- | --- |
| | Report from 11 LPW Annual meeting in 2008 |

League of Professional Women (LPW) arranged to have its Annual Meetings in a different setting to get new opportunities to establish and develop business and social networking. So the Eleventh LPW's annual meeting was held in the Ukrainian State Museum of Books and Printing, Kiev Pechersk Larva . Non government organization "League of Professional Women" is base in Kiev, Ukraine and have international network to include members from Kiev, Munich, Kharkiv, Hamburg and Paris that unites representatives of business, science, education, mass media and public spheres. LPW members are citizens of Ukraine, USA, Germany and France. LPW Consultative Group is composed of men and women - high professionals in the above mentioned fields.
The agenda of the meeting included a visit to the Museum of Books and Printing in Kiev Pechersk Lavra, presentation of the LPW projects implemented this year and plans of LPW for the future. We also had an opportunity to taste Ukrainian and French wines and enjoy incredible view of Lavra Bell tower and Assumption Cathedral.
During the tour we got an insight of the history of book writing starting in the 11th century, had a chance to see rare and unique books of 18-19 centuries and printing presses of 17th century. We appreciate the assistance of the staff of the Museum in general and Valentina Bochkovskaja, director of the Museum, in particular.

The tour was followed by the reception. In June 2008 the LPW signed the UN Global Compact and became a member of Ukrainian UN Global Compact Network, therefore at the reception the LPW was awarded the UN Global Compact Certificate.
In the picture you can see Anna Danyluk, Global Compact Focal Point representative, handing the Certificate to Olena Lazorenko, LPW President.
The ceremony was followed by the presentation on LPW projects and events, brief on their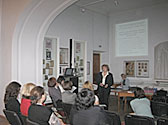 preparation, implementation and results. Here is some of them:
Promotion of Corporate Social Responsibility in Ukraine through training and publications (Oct -May 2008)

supported by Democracy Grants Program of the US Embassy in Ukraine, NADRA Bank and LPW partners. Under the Project LPW organized two trainings, a seminar for the experts and a conference conducted in Kiev. More that 80 representatives of business, public organizations, charity foundations and mass media took part in the activities. The Project's participants come from Kiev, Kharkiv, Donetsk, Odessa, Poltava, Lugansk, Ivano-Frankovsk, Bila Tserkva, Brovary and Rivne. We also published the book "CSR Guide. Basic information on corporate social responsibility in Ukraine" in Ukrainian- Kiev, 2008. Its electronic version will be available on the

LPW website

after its updating is completed. The presentation of the book was held in American Resource Center (June 18, 2008), in American Chamber of Commerce (June 5, 2008), etc.

Participation in our partners' projects on Corporate Social Responsibility (CSR) for journalists co-organized by Expert-Ukraine magazine and Eastern Europe Foundation (Donetsk, Sevastopol, Chernigiv). Publication of the articles on political and economic issues in national magazines (Narodny Deputat, General Director). Copies of publications were distributed to the participants of the meeting.

Participation in various events and activities. This Fall they were:
Sept 29 - Presentation of the contest The best family enterprise;

Oct 3-4 - Kharkiv Conference and Fair of Gender Projects (V.Legkaja);

Oct 8 - OSCE conference Development of Civil Society in Ukraine;

Oct 15 -Meeting with Nina Karpachova, Ombudsman;

Oct 15 -Conference on the main directions of gender development in Kiev;

Oct 22- Meeting with Tatiana Kondratuk, deputy minister;

Nov 1-Training session under Fundraising Seminar (Sevtlana Kuts, Olena Lazorenko).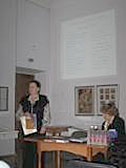 In the picture Valentina Legkaja, head of the Revision Commission and Executive Director of the Federation of Accountants and Audits of Ukraine, is telling the participants about Kharkiv Conference and LPW's plans on promoting gender equality at the labor market and about CSR initiatives.
LPW meting in summer. Tour to Trypillja (Kiev region) that included visit to State Archeological Museum and private Museum of Local History and Traditions and lunch in a Georgian restaurant on the Dnieper River.
LPW Plans for 2008-2009: New Ideas and Initiatives
a) Develop a series of books on Corporate Social Responsibility (analytical and popular series) based on two booklets published thanks to two grant projects on CSR. Those interested in participation in the project, please don't hesitate to contact LPW (lpw_network@i.ua)
b) Continue preparing articles and analytical research on CSR, women entrepreneurship, personnel management, social capital, political issue, etc on the request of mass media and international agencies;
c) Grant applications on CSR to cover the issues of human rights and business, volunteer projects on CSR, sustainable development. Those interested in participation in the project, please don't hesitate to contact LPW (mailto:lpw@vilicable.com);
d) Submitting applications on gender issues. Those interested in participation in the project, please don't hesitate to contact LPW (mailto:lpw@vilicable.com);
e) Expanding business contacts and social networking. Reception at Mrs. Sara Pickering residence, Commercial attaché, British Embassy in Ukraine; date: Nov 27, 2008, time: from 7 p.m. Please RSVP to Natalia Martynenko, LPW Board member, by Nov20, 2008.
f) International Cooperation. Canada: meeting with the CIDA experts on development of women entrepreneurship (Kiev, Oct 30, 2008); Germany: international seminar on management of gender diversity, Heinrich Ball Foundation;
g) The proposal to join Public Counsel at the Ministry on family, youth and sport issues was approved by the meeting.
The LPW president gave small gifts and goodies to the most active LPW members.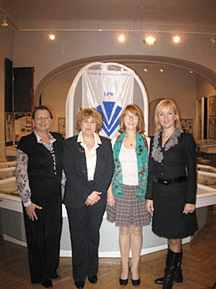 Participants of the event had a chance to view a video on the celebration of the tenth LPW Anniversary taped by Alla and Boris Kozhin last year at Opera Hotel, LPW's meeting venue. LPW is deeply grateful to them for the initiative and effort undertaken.
The 10th LPW Annual Meting was sponsored by Opera hotel, Leading Hotels ltd, Avon Ukraine, InBev Ukraine and co-organized by the LPW partners Center of Philanthropy and the first women theater Theatre na Grushkah.
LPW members also had a chance to enjoy excellent French and Ukrainian wines.
We appreciate everybody's assistance in the organizing, preparation and conducting of the meeting. Special thanks to Olena Lazorenko, Natalia Gurieva, Svetlana Kuts and Zhanna Akimova.
In the photo you can see LPW Board Members Valentina Legka, Olena Lazorenko, Natalia Martynenko, Natalia Gurieva.